We're building the best B2B SaaS content marketing services company in India. We're setting out our rationale for this in this article.
You've heard about the fantastic ROI that blogging is imparting to brands that you love. You know that those other brands are generating high quality leads that can be closed quickly. You yourself have signed up for several products after their articles convinced their value props skillfully.
You want to produce similar results and now are looking for a content marketing agency partner who can deliver it.
But working with an agency can become quickly expensive, regardless of whether they deliver the results you're after.
In this blog post, we'll discuss what you should aim for, how to select a content marketing agency for your SaaS product and also give you a list of our best agency recommendations.
The ONE content marketing metric for your SaaS business: trial signups.
The primary goal of any SaaS business is to get potential customers to sign up for a trial of their product. This is especially true for B2B SaaS companies where the customer acquisition cost can be high. A trial signup not only indicates interest in your product, but it also provides an opportunity to demonstrate the value of your product directly to the customer.
Therefore, the number of trial signups is the most important content marketing metric for your SaaS business. It's a direct measure of the effectiveness of your content marketing strategy.
In the next section, we will provide a comprehensive guideline on how to choose the best content marketing agency for your SaaS business.
Choosing the Right Content Marketing Agency
Methodology
Hiring experts can become expensive. However, without expert knowledge, the articles can sound too elementary for your audience. Or it ends up being a mishmash of content that's cobbled together from existing articles (from competitors).
The probability of producing look-alike content is so high, we recommend an alternative approach.
Welcome to interview-based content development. Interview your own product people, marketing managers, sales reps, and even your customers. Gather their insights, their experiences, their challenges and successes. This provides a unique perspective on your product and the solutions it provides. It also gives a personal touch to your content, making it more relatable and engaging for your audience.
Expertise
You want to ensure that they have a deep understanding of content strategy, including targeting the right audience and conducting thorough market analysis. Additionally, they should be well-versed in content distribution tactics such as audience outreach, email marketing, social campaigns, paid ads, and forum posting.
Another aspect to consider is their ability to drive rankings in search results. A knowledgeable agency will have strategies in place to help improve your website's visibility and organic traffic.
Lastly, it's important to find a results-based agency that focuses on measurable outcomes such as conversion rates and trial conversions. This demonstrates their commitment to delivering tangible results for your business.
Cost
When it comes to choosing the right content marketing agency, cost is definitely a factor to consider. However, it's important to remember that the cheapest option may not always be the best option.
While you want to stay within your budget, it's also crucial to prioritize quality and results. Investing in a reputable agency that can deliver impactful content and drive your business goals is worth every penny.
Culture match
Choosing the right content marketing agency goes beyond skill set; it's about finding a cultural match for long-term success. An agency's open attitude towards communication and feedback ensures seamless collaboration, while their drive for success guarantees proactive efforts to exceed your goals. Their commitment to ongoing learning helps adapt to ever-changing market trends, ensuring your strategy stays relevant. Timely execution means you'll meet objectives without delays, and an agency's capacity to scale ensures a sustainable partnership as your business grows. Each of these cultural factors plays a pivotal role in the effectiveness and longevity of your content marketing endeavors. Plus, ensure that you're aligned with the agreed metrics from the get-go.
Let's rank the top B2B SaaS marketing agencies.
Paretoid – Our Agency
Obviously, we're biased keeping our own agency on the top. But let me tell you why deserve the spot. We execute B2B SaaS with results -driven content marketing strategies. Our team of experts are well-versed in audience targeting, content distribution, SEO optimization, and reporting. We also bring a deep understanding of our clients' businesses which helps us to create unique strategies tailored to their individual needs.
We have frameworks to execute product-led content marketing and account-based content marketing strategies.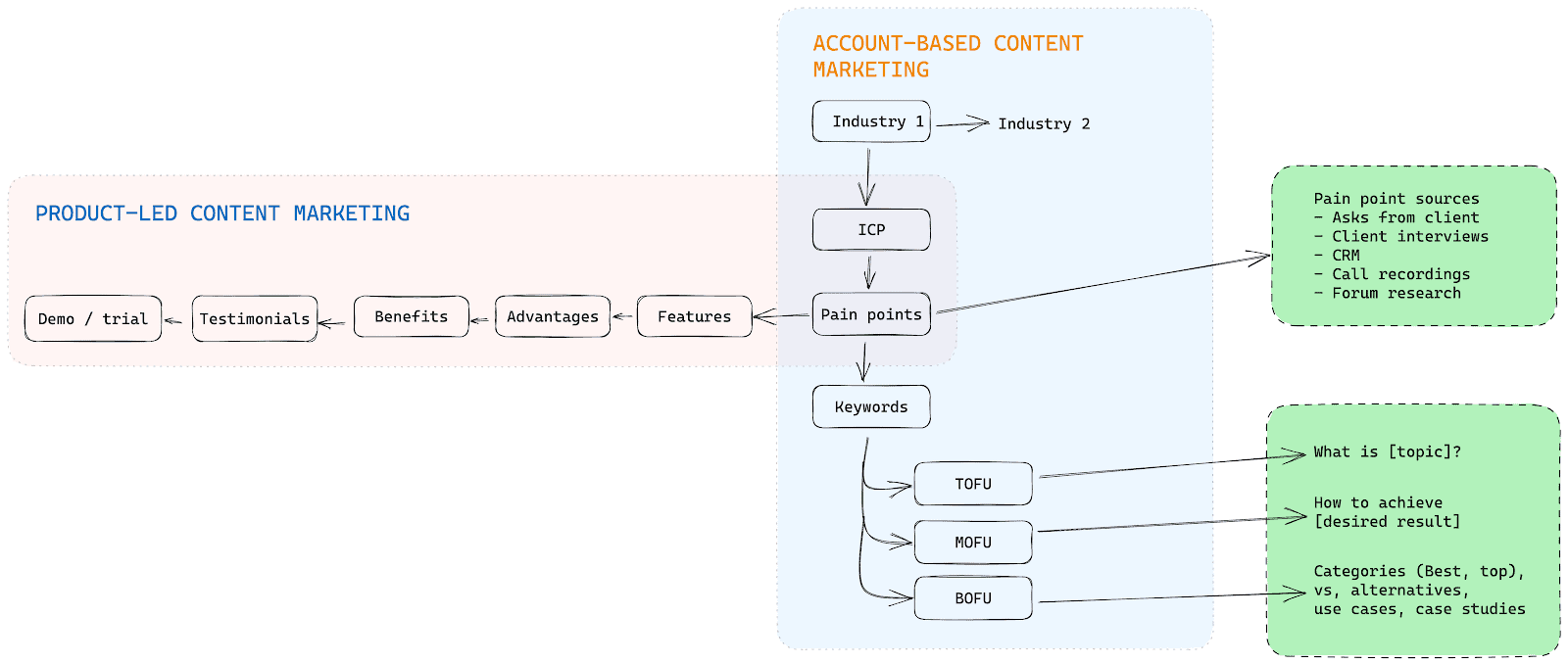 Services offered
Content Strategy Development
Content audits
Blog Content Writing
Search Intent Research
Keyword Optimization
Content Distribution Strategy and Implementation
Email Marketing
Social Media Management
Copywriting for Ads, Websites, and Emails
How we deliver the trial signups
At Paretoid, we understand how important trial signups (qualified leads) are in a B2B SaaS environment. We take a multi-channel approach to delivering trial signups through our content marketing services.
First, we conduct an initial keyword research to identify the top search terms related to your product or service that are most likely to generate interest and attract prospects to your website – these are mostly bottom of the funnel keywords.
Specifically, for the identified target audience. (or Ideal customer profiles), we research the category keywords (like this one: b2b saas content marketing services :)), comparison keywords (Freshbooks vs Zoho Invoices vs [your invoice product]), alternative keywords (Xero alternatives), use case keywords (payment gateway for subscriptions) and case study keywords.
Then, we create the different types of content: case studies (customer stories), in-depth articles, lead magnets, landing pages, product pages, white papers and how-to guides. We have well defined SOPs for search engine optimization (cover as many semantically related keywords as possible), content quality, adherence to brand guidelines
After we complete the bottom of the funnel keywords (optimized for conversions), we progress to middle of the funnel keywords and eventually to top of the funnel keywords that are optimized for organic growth.
Pricing
We offer a flat $1,500 per month pricing for content strategy, writing 3-5 pieces of content, promotions (paid ads, newsletter and socials) and ongoing optimization.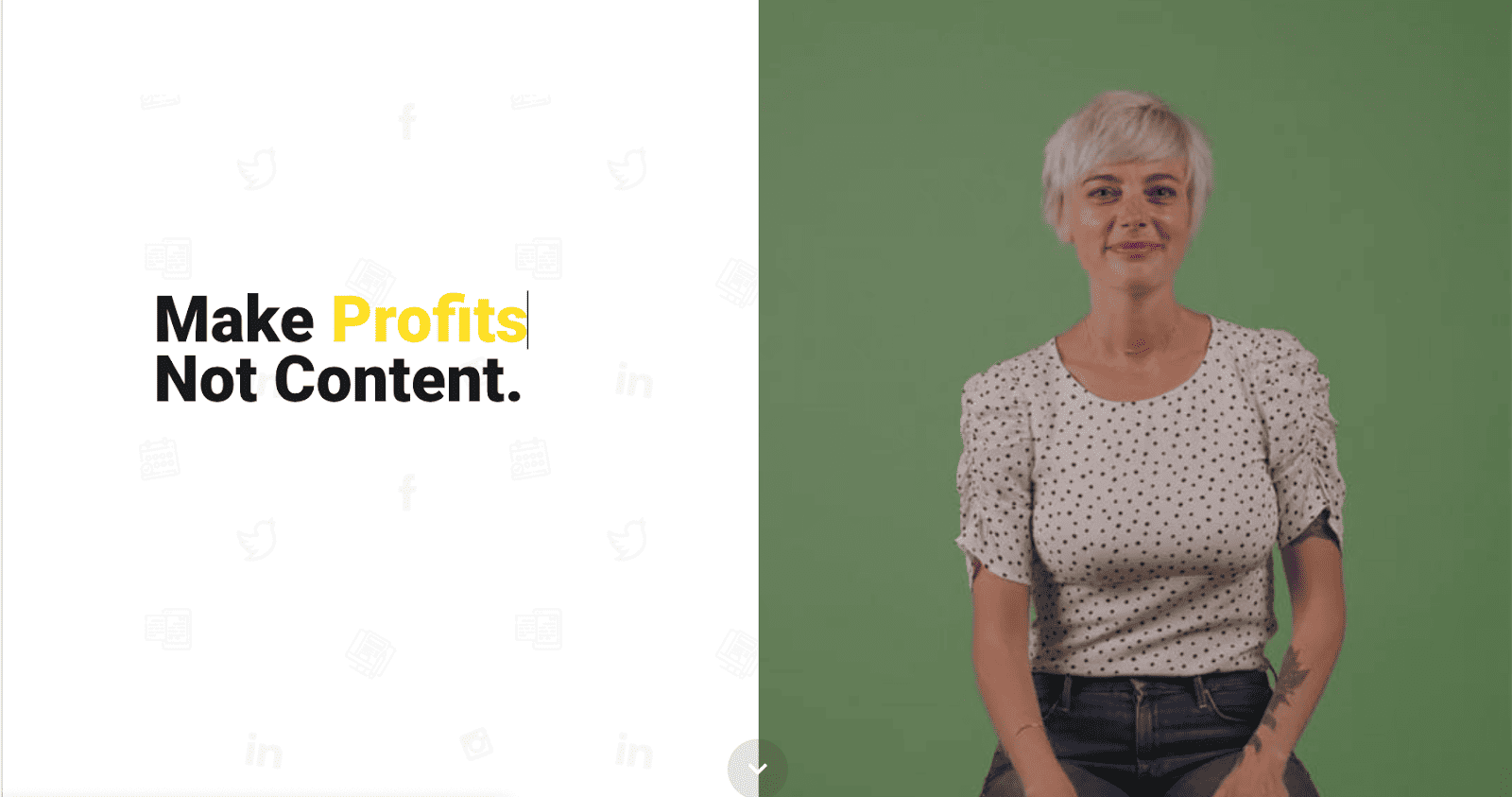 Breezy Content is a digital content creation and management company that provides ongoing social media, blog copywriting, content design, and lead generation content services. They cater to various types of organizations such as small businesses, consultants, agencies, and startups. Breezy's integrated approach includes planning, writing, designing, and publishing all the customer's content.
They utilize their proprietary software to align all of a client's content efforts towards their specific monthly goal, housing critical features such as content calendar, feedback system, file storage, and analytics all in one platform. Breezy sets itself apart with a team of dedicated content creators for each client, SEO expertise, convenient social media scheduling, and monthly check-in meetings to ensure alignment with the client's strategy.
Pricing
The company offers three distinct monthly plans – Activator, Communicator, and Thought-Leader ranging from $800-$1800, that are designed to scale with the growth of their client's operations. Their best package includes blog writing, social posting, content strategy and content calendar.
Breezy Content prides itself on offering a scalable and sustainable content strategy solution meant to bridge the gap between effective content marketing and affordability.
Perhaps not a good fit if:
You're looking for an agency that have strategies tailored for SaaS businesses.

Gosling Media is a premier B2B marketing and media services firm that provides comprehensive and consolidated digital marketing, creative services, and content production for expanding B2B businesses.
What makes Gosling Media unique is their prompt hands-on approach towards projects, which allows for quick iterations and faster delivery of remarkable results. They have a unified service model and provide a one-stop solution for a broad range of deliverables, from sales decks, brochures, web design to video production.
Gosling Media primarily targets innovative B2B companies, and their tailored services have successfully transformed the digital presence and marketing strategies of various organizations. Over the years, they have repositioned a 70-year-old business and worked with an Enterprise SEO Platform, a new Ad Tech Platform, and a Global Language Services and Technology Business, among others.
Services offered
Gosling Media specializes in an array of creative domains like advertising, copywriting, branding, content design, sales materials creation, event-based creative services, video editing, animation, print design, graphics & illustrations, and website development.
Pricing
Gosling Media offers a variety of cost-effective packages tailored to cater to different customer needs. Their Content Marketing Package, priced at $4,900, includes keyword research, six premium blog posts, a publishing schedule, and social media promo assets. Additionally, they also provide flexible Pay-as-you-go and monthly retainer pricing models, making their services accessible to companies with different financial capacities.
Perhaps not a good fit if:
You're looking exclusively for a content marketing agency with proven frameworks and strategies to increase your organic traffic and conversions. They do not have a content marketer or a content strategist on their team.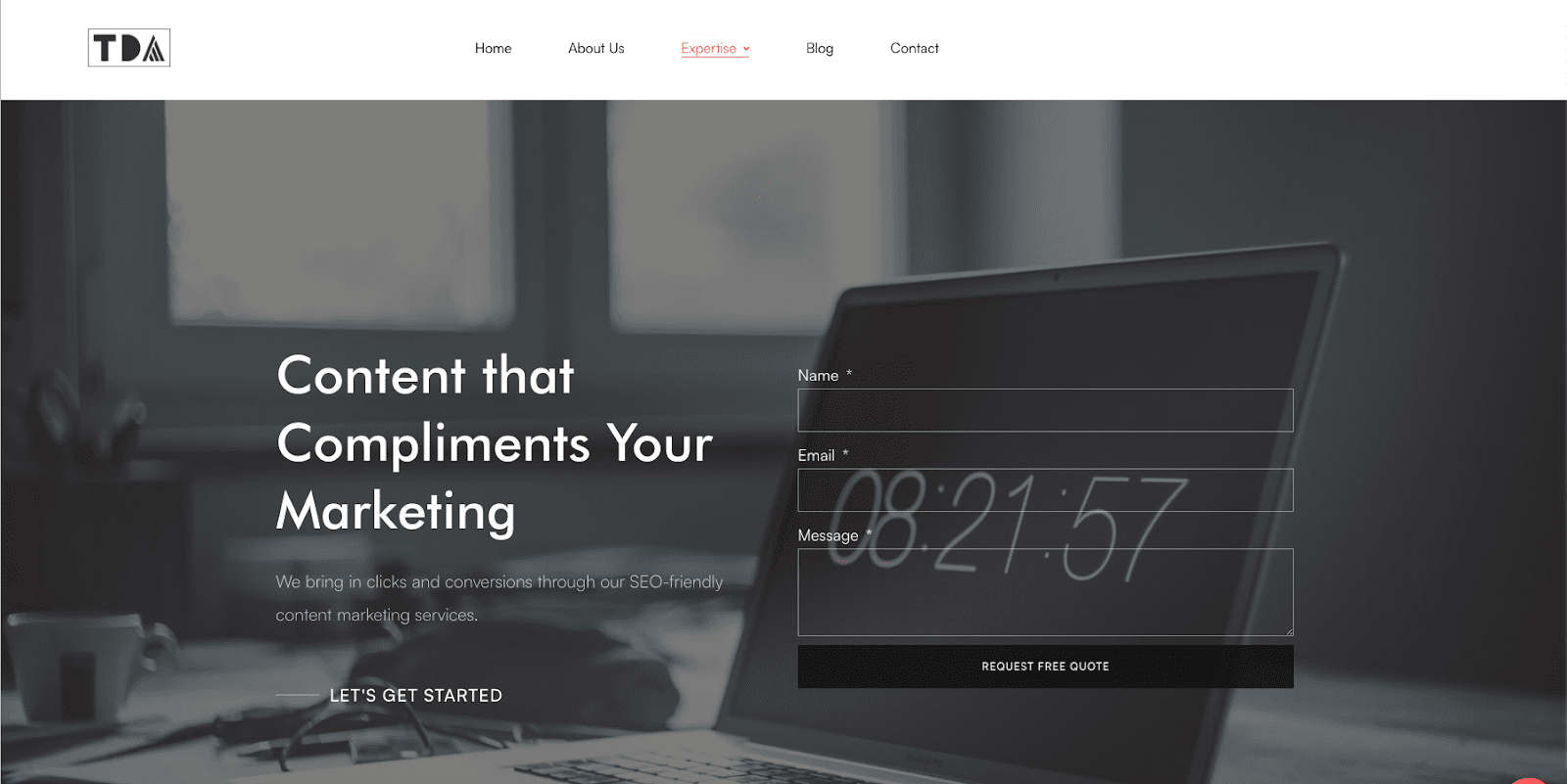 The Digital Aditya offers comprehensive content marketing services, aiming to deliver clicks and conversions through SEO-friendly and customer-centric strategies. They undertake a holistic approach to generate and distribute content that attracts and retains the user's attention.
Their unique selling proposition lies in the creation of 100% unique, error-free, and well-thought-out content, crafted to transform prospects into long-term clients. The Digital Aditya highlights their ability to withstand challenging situations and deliver consistent results on time. They pledge to add tremendous value to every project enlisted with them by going above and beyond the expected results.
The Digital Aditya assists a broad range of companies, from small individual entrepreneurs to billion-dollar enterprises. They provide dedicated resources and create a content calendar and workflow to guarantee prompt delivery. Their clientele boasts respected and world-leading brands, proving their worth.
Services offered
Notably, their services cover the full spectrum of content marketing, including strategy formation, content creation, content optimization, promotion, maintenance, and reporting..
Pricing
In terms of pricing, The Digital Aditya presents itself as a 'pocket-friendly' agency, offering top-of-the-line services at a cost that won't break the bank. Despite being rated highly as a content-centric digital marketing agency, they stress the affordability of their services, aiming to support their own growth while helping clients reach their full potential.
Perhaps not a good fit if:
The Digital Aditya delivers content marketing for a wide range of companies. It's not clear they have specific strategies for SaaS companies looking to drive organic traffic and conversions.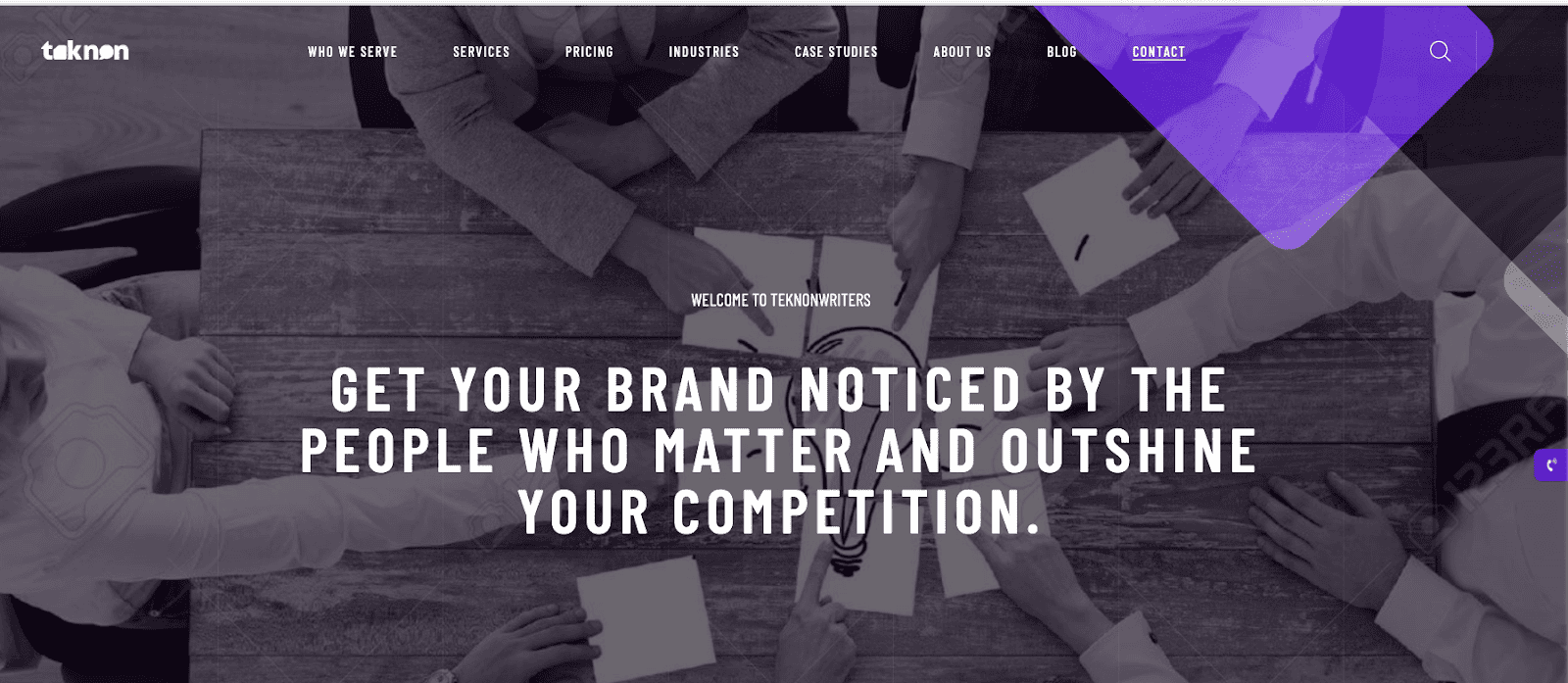 TeknonWriters is a comprehensive content writing service committed to producing high-quality, engaging content that captivates audiences, drives engagement, and breathing life into your brand. They take pride in working closely with their clients to ensure every piece of content is a perfect reflection of your passion, ambition, and goals.
What sets TeknonWriters apart from competitors is their dedication to producing in-house content, rather than relying on a freelance marketplace. This enables them to form a deeper understanding of your brand and produce more effective results.
Choose TeknonWriters for your content needs if you want a dedicated partner committed to helping you achieve your business goals through persuasive, effective content.
Services offered
Services offered by TeknonWriters includes blog posts, eBooks, newsletters, press releases, ad copy, content strategy, and a broad assortment of other types of content. They are also capable of writing text for LinkedIn and Twitter and creating product descriptions, web content, and email copy.
Pricing
Their pricing starts from $1,000 and goes all the way up to $10,000
Perhaps not a good fit if
Perhaps not a good fit if you are looking for content marketing services with a focus on B2B SaaS companies. TeknonWriters offers comprehensive content writing services, but their portfolio may not have the specific strategies for B2B SaaS companies that you are looking for. Additionally, their pricing is higher than some of the other options available in this budget range.
How to get started with Paretoid
Ready to elevate your content marketing efforts and achieve sustainable growth? Paretoid is your go-to content agency, specializing in B2B SaaS. Here's why we deserve the top spot on your list:
Why Choose Paretoid?
We're not just another agency; we're a results-driven team with a laser focus on conversion rate optimization and delivering valuable content. Our leadership content is meticulously crafted to align with your specific content marketing goals, freeing up your marketing team to focus on other core activities.
Our Frameworks
ProductLever Framework: This is our product-led content marketing framework.
AccountMax Framework: This is our account-based content marketing framework that
Our Process
Bottom of the Funnel: We kick things off by targeting bottom-of-the-funnel keywords, optimized to convert prospective customers into trial signups.
Middle of the Funnel: Once we've captured those ready to convert, we move up to mid-funnel keywords that are more informational.
Top of the Funnel: Finally, we target top-of-the-funnel keywords aimed at building awareness and organic growth.
Pricing
For a flat rate of $1,500 per month, you'll receive a comprehensive content marketing plan that includes writing 3-5 pieces of content, promotions across various marketing channels, and ongoing optimization to ensure long-term success.
Ready to Partner with Us?
If you're in search of a content team that deeply understands product marketing, SaaS SEO and is committed to your success, then it's time to talk to Paretoid. Let's align our strategies and start turning your content into conversions.